About Us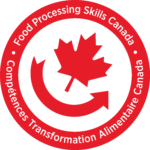 About Food Processing Skills Canada (FPSC)
Food Processing Skills Canada (FPSC)
is the food and beverage manufacturing industry's workforce development organization. As a non-profit, located in Ottawa with representatives across Canada, we support food and beverage manufacturing businesses from coast to coast in developing skilled and professional employees and workplace environments.
Our work directly and positively impacts industry talent attraction, workforce retention and employment culture. We care about assisting the industry in finding, training and retaining the very best people for the job.
About FoodCert™
The FoodCert™ Certification is a voluntary process through which industry credentials are granted to individuals meeting standards based on the National Occupational Standards (NOS). Certification indicates that an individual has achieved a specific level of knowledge and skill pertaining to a specific occupation or role. The FoodCert™ certification program will ensure that the skills of employees are aligned with standards and increased regulatory requirements set forth by the Safe Food for Canadians Act (SFCA).
For employers, it allows them to hire professionals with the required knowledge and skills while expecting a higher level of performance overall. It also allows them to establish standards in recruiting while reducing training costs. Finally, our certifications allow employers to recognize the hard work demonstrated by their workforce.
For candidates, this brings trust and credibility to your resume and can help you in getting your dream job in the food and beverage industry. Whether you pursue a career as a production worker, industrial meat cutter or other areas of employment in the industry, certifications tell your employer and co-workers that you are qualified.
Ultimately, there are over 7,500 food processing establishments in Canada from coast to coast. Food and beverage processing is Canada's largest manufacturing industry, accounting for more than 17% of all manufacturing jobs. We believe certifications are key in helping the Canadian food and beverage industry grow, develop, and remain competitive.