À propos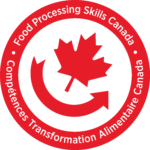 Compétences Transformation Alimentaire Canada (CTAC)
Compétences Transformation Alimentaire Canada (CTAC)
est l'organisation de développement de la main-d'œuvre de l'industrie de la transformation des aliments et des boissons. Comme organisme sans but lucratif établi à Ottawa ayant des représentants partout au Canada, nous appuyons tous les transformateurs d'aliments et de boissons du pays dans le développement d'une main-d'œuvre compétente et professionnelle.
Ce que nous faisons se répercute directement et positivement sur l'attraction de talent, le maintien en poste des travailleurs et la culture d'emploi de l'industrie. Nous sommes résolus à aider l'industrie à trouver, former et conserver les meilleurs employés qui soient.
Au sujet de CertAlimentMC
La certification CertAlimentMC est un processus volontaire en vertu duquel des titres de compétence de l'industrie sont décernés aux personnes qui satisfont des critères basés sur les normes professionnelles nationales (NPN). La certification atteste qu'une personne possède les connaissances et les compétences requises en regard d'une profession ou d'un rôle spécifique. Le programme de certification CertAlimentMC fait en sorte que les compétences des employés cadrent avec les normes et les exigences réglementaires accrues avancées dans la Loi sur la salubrité des aliments au Canada (LSAC).
Pour les employeurs, la certification permet de recruter des professionnels possédant les connaissances et les compétences voulues, tout en attendant un niveau de performance général plus élevé. Elle permet également d'établir des normes de recrutement et de réduire les coûts de formation. Et grâce à la certification, les employeurs peuvent reconnaître l'excellent travail qu'accomplissent leurs effectifs.
For candidates, this brings trust and credibility to your resume and can help you in getting your dream job in the food and beverage industry. Whether you pursue a career as a production worker, industrial meat cutter or other areas of employment in the industry, certifications tell your employer and co-workers that you are qualified.
Il y a plus de 7 500 établissements de transformation alimentaire au Canada. La transformation des aliments et des boissons est la plus importante industrie manufacturière au pays, et compte plus de 17 % de tous les emplois de la fabrication. Nous croyons que les certifications sont essentielles pour permettre à l'industrie canadienne des aliments et des boissons de croître, de se développer et de demeurer concurrentielle.